Examining the unique concerns of a luxury brand and integrating them into a cohesive brand system as expressed through its touch points.
Aurelian is an all inclusive luxury brand that targets those who prioritize body health, current trends, and quality materials with their piercings.  
Aurelian is all about confidence, empowerment, and of course, beautiful body jewelry. The brand focuses on current jewelry trends while also embodying the value of what good quality jewelry can do for your body.
Brand Name
"Aurelian" means gold or golden, reflecting the finest and most popular material selection for Aurelian body jewelry.
Typeface & Pattern
Aurelian's display typeface (Branding Aliskaji) has a level of elegance and unique flare along with the pattern made up of unique body shapes to highlight self empowerment and confidence. Raleway contrasts the display typeface when used in use for subheads and body copy. 
Outside
The glass jewelry box is an organic curvy shape that represents the body. 
The jewelry box gives the appearance that the jewelry is floating in the glass, adding a touch of awe to the design, along with Aurelian's logo which is engraved in the glass with gold.
Inside
The inside of the box is laser cut to fit each unique piece of Aurelian jewelry perfectly, while a thin layer of small embedded magnets around the outside seam of the box allows it to seamlessly hold together and pull apart.
exterior box & Leather cover
The exterior box is designed with a leather cover to hold and protect the glass jewelry box during shipment. It also details an engraved logo on the surface for elegance and brand recognition.
Cleansing Cloth
Each shipment comes with a free custom cleansing cloth with the Aurelian pattern printed on it and a gold engraved logo and diamond for an elevated look and feel. 
Customer Relationship Building
Thank You Card
After every purchase, customers get a thank you card with jewelry care instructions. This card aids in relationship building and builds brand recognition with the brand colors, pattern, and typefaces.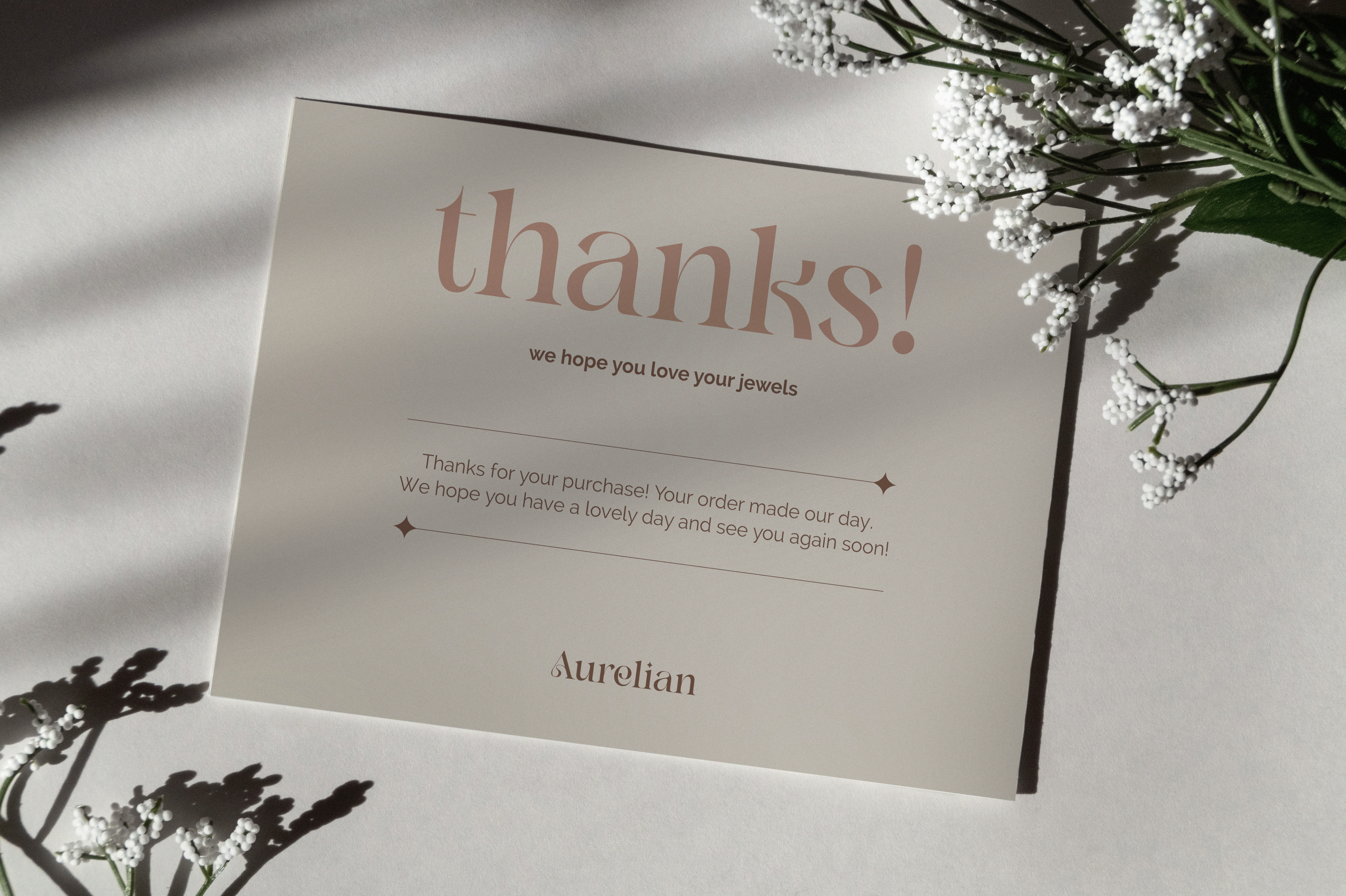 Aurelian Club
A birthstone jewelry birthday present for members every year, exclusive tickets to collection launch parties, and monthly care packages with sea salt solution, a custom cloth, and a bottle of antimicrobial lotion soap.
Signage
Aurelian advertisements will be placed in busy areas to grab the target audience's attention with brand photography, product photography, and the brand typeface.
Social Media
Aurelian is active on Facebook, Instagram, and other social media platforms in order to stay in-touch with their customers. The social posts are designed with bold type, portrait photography, and brand colors to grab attention and create awareness for special Aurelian deals. 
Brand Spokesperson
Zoë Kravitz is Aurelian's influencer and spokesperson because she is a trendy actress who has a unique style of her own. She also shows off her different body piercings and jewelry tastes on her many platforms which makes her the perfect spokesperson for a luxury body jewelry brand.
Customer Interactions
To raise the convenience levels for our customers, has its own shops located around the US, as well as products placed in other high end piercing shops in their personal display cases. 
Desktop Website
The desktop website features the home page, the shopping pages, and each individual product page for its user to shop these luxury products with ease.
Mobile Website
The website is responsive and can be used on any device for their user's convenience. On the mobile website the user can shop all of the same products and search for all of the same things that they can do on a desktop. 
Mobile Application
The mobile application is where Aurelian users can get more of their personalization involved. Here they can sign up for Aurelian Club, shop any of the products, try on their favorite pieces, and navigate around Aurelian with the ease of a bottom navigation bar.