Problem
Design and develop the identity extended to a broad set of communications for a compelling conference for industries in tech, design, and education. 
Climate offline conference
Climate Offline is a conference that explores the interconnected nature of people on Earth through evolving technology and the contrasting impacts it has on our climate. Climate Offline will be inviting speakers who have strong opinions on whether advancing technology is having positive or negative impacts on our climate, and they will be doing so offline and in person. 
The theme surrounding this conference is contrast with two different sides to the climate change and technology issue, creating a controversial and enlightening round of speakers giving the audience all sides of the story. Everything in Climate Offline will be displaying contrast, including the name of the conference, the logo, the colors, and all of the touch-points.
How can I show the concept of this event through contrast?
Climate offline is presenting the contrasting effects that technology has on climate change. The only fitting way to represent this is through visuals that highlight this contrast.

Conference Concepting
Iterations of possible conference word marks 
Exploring the interconnected nature of people on Earth through evolving technology and the contrasting impacts it has on our climate.
Co22
CO22 is a play on the conference name and the year 2022. This symbol plays off of the chemical formula for Carbon Dioxide, the primary greenhouse gas that contributes to climate change due to human activity (and maybe even technology.)
Colors
The color palette for Climate Offline includes tones of green (symbolizing the earth, climate, and nature) and blue (symbolizing security, stability, and technology.) 
Type strategy
The typeface used for climate offline is a modern san-serif called Neuzeit Grotesk. This typeface is used in contrasting ways with all caps, sentence case, bold, and regular styles.
Pattern
The climate pattern on the left mimics a topographic map used for illustrating the shape of a land surface, which contrasts the technological pattern on the right that uses straight lines and a mathematic looking structure. 
Imagery
The imagery for climate offline is broken up into three different structures: Green dominant, Earth-related imagery, blue dominant, technology-related imagery, and contrasting imagery that include both colors or ideas. 
Speakers and Topics
Climate offline will have six speakers overall, and each speaker will be talking about either more in favor of technology being a positive asset for climate change, or technology negatively impacting climate change. In these posters, the speakers in favor of technology have the technological pattern behind them, and speakers who are not, have the topographic map pattern.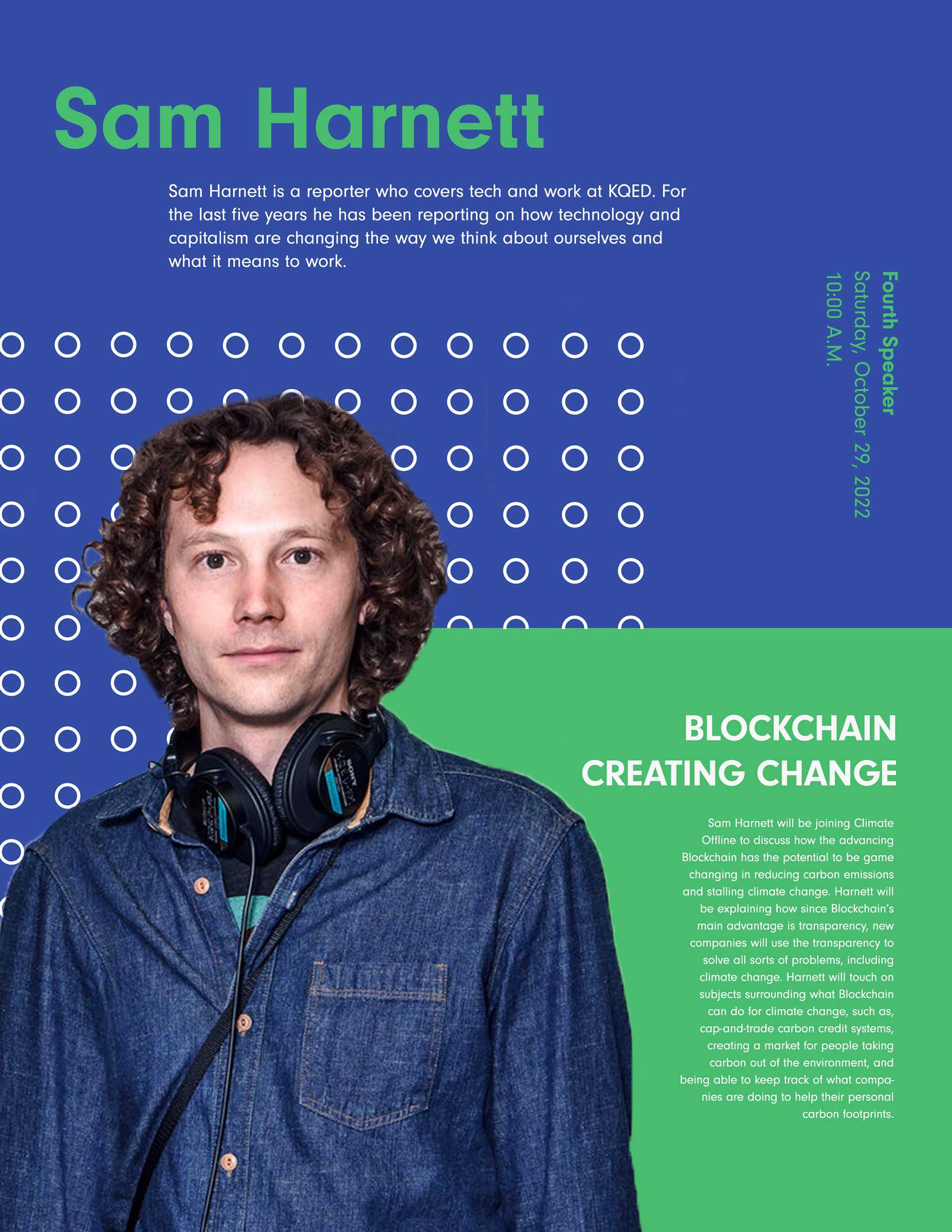 What devices do I need to make climate offline an unforgettable experience for attendees?
To help me think through my user's path when interacting with the Climate Offline experience, I used the 5 E and AEIOU methods to figure out what  touch-points would be engaging and unique for my target audiences including:
Environmental signage, outdoor advertisements, interior venue decor, digital signage, interactive deliverables, and motion graphics.
Venue
Climate Offline will be commencing at the City View at Metreon in San Francisco. Having the conference in a place like California, with such a large population, seemed only fitting as it is effected both by climate change side effects, and the abundance of advancing technology. 
Environmental Signage
Clime Offline signage will be posted around and inside of the venue, to help guests understand the concept behind the conference, and to know that they are in the right place. 
Advertising
To advertise for the conference, signs and billboards will be placed around the city in populated areas. 
Venue Interior
Inside of the venue, branded touch-points will be placed around the facility to keep guests emerged in the conference such as podiums and wall graphics.
Digital Signage
Placed outside of the venue, digital billboards containing captivating and contrasting imagery and patterns will be playing in order to get audience members talking about the topics and controversy of the conference. 
LanyardS, Tickets, & Postcards
It is important to have touch-points that Climate Offline attenders are able to interact with and receive from the experience. Each attendee will receive their own lanyard, tickets, and postcards with information about the conference speakers. 
Website
The Climate Offline website gives users a way to purchase tickets, see event details, and contact the help team. 
PROMOTIONAL Poster
To promote Climate Offline, posters will be used to get people interested in attending the conference. 
 Motion Graphics
When entering the venue for Climate Offline, users will see televisions posted around the facility with captivating motion imagery of Earth and Technology.