What do retirees really want in a mobile app, and how can a mobile app be designed with them in mind?
The problem
The internet and social media have been sweeping the nation with popularity throughout the last decade, yet all of this popularity and growth is made up mostly of younger generations. The surplus of young users leaves seniors to be left out of this mobile movement, with no mobile apps catering to their needs or wants.
Facebook Groups
To take a more personal approach with my research, I started with some online Facebook groups

to find out a little bit more about the challenges that retirees face, what gives them a sense of purpose and lifestyle, and what they enjoy doing once retired. 
What I learned from these individuals is that once they become retired, they seem to go back to doing what they loved in the past, because they finally have the free time to be able to do that.
Rekindle is a senior-friendly mobile application designed to help retirees navigate retirement by reigniting their passions through an algorithm that tailors activities, products, events, groups and activities in their area. 
This app contains features that allow the user to browse through selections based on their interests and gives them the ability to save the ones they're interested in to their own profiles. 
It gives retirees the ability to Rekindle what they used to love and get re-immersed in their communities through doing things that they enjoy. 
​​​​​​​
As life moves along, we can look away from our own well-being when our focus constantly shifts to work, families, and other concerns that are important to us. In doing so, maybe we set aside the small things that bring us huge personal satisfaction. It can be difficult to press play on the life you've put on hold for so long. When time becomes more abundant, how can the meaningfulness of these small joys be reactivated?
The brandmark for Rekindle is simply the name of the brand with the letters manipulated to look like they are holding and nourishing the flame. The flame icon represents everything that Rekindle stands for in reigniting joy, rekindling inner passions, and getting back to what you love the most during retirement.
There are several different iterations of the logo including a version with a dark and light background as well as a version with the slogan and without. 
Different chemicals cause flames to ignite in different colors. Everyone 
has different passions that must be rekindled, which represents the 
different flame colors in the palette.
I knew after all of my research that I wanted to create and design an app that would really benefit retirees in rekindling their passions by helping them regain their past hobbies and interests while also creating a platform that would be accessible and easy for an older demographic to navigate. 
Screen Design rounds
After sketching out layout ideas I created multiple rounds of screens before going through to testing the experience with the user group.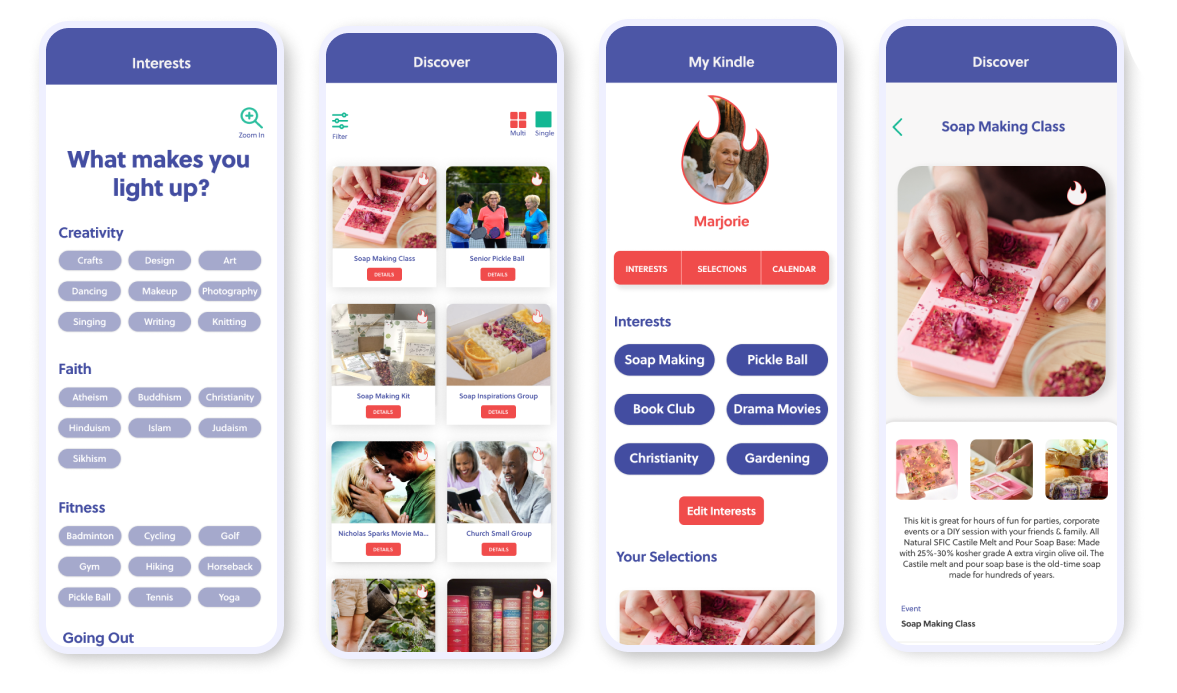 After creating the the first round of screens I knew it was important to test my experience with the actual target group of retirees in order to make sure that my ideas were as accessible, understandable, and navigable as I had hoped they were. 
Rekindle Screen Design

INTRODUCTION AND ONBOARDING
For the onboarding stages of Rekindle, the app has the user sign in, gives them a quick tutorial/debrief of the app, and has them begin to make their profile. In doing so the user will select and enter in their interests so that the app's algorithm can match them to activities, events, groups, and products that they might be interested in. 
It then gives the user the option to go to My Kindle and check their profile, or get right into the discover page to find things pertaining to their interests right away. 
INTRODUCTION AND ONBOARDING
Click the play button to view the onboarding phase in action.
DISCOVERY 
During the discovery phase the user gets a quick tutorial on how to navigate the upcoming screens. They then get brought to the discover page where they are given events, activities, groups, and products that align with the interests that they previously entered in the onboarding stage.
If they have trouble reading the text or seeing the images on screen, there is a single view button at the top that enlarges the page so that the user only sees one choice at a time. To help them find specific interests there are filters that narrow their search down. 
When the user finds something they like, they are able to click the flame icon to add it to their My Kindle profile, or they can click "Details" to be brought to a page that goes into the specifics.
Discovery
Click the play button to view the discovery phase in action.
My Kindle
The user's personal profile, called My Kindle, is where all of their saved activities, events, groups and products are found. Every user gets a calendar so that they can organize their events and activities easily, as well as a filter on the selection page to help them find exactly what they are looking for. They can also view their interests and edit them directly from their My Kindle page. 
When the user clicks on a certain selection, they are brought to its details where they can add it to their calendar. There is a section navigation under their profile photo that allows them to toggle back-and-forth between the elements on their My Kindle page.
My Kindle
Click the play button to view the My Kindle phase in action.